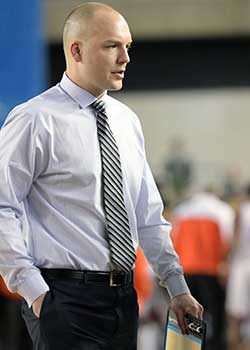 Coach Aubrey Shelton, a graduate of Puget Sound and Tacoma native, has spent the past 11 years guiding Lincoln High School to an impressive overall record of 237-57 (.806), including six district titles and eight league titles. Shelton led five Lincoln teams to top five finishes in the State Tournament. He has been recognized eight times with league Coach of the Year honors and three times was All-Area Coach of the Year.
Shelton is a four-year letter winner for the Loggers, playing for the Maroon and White from 2001 through 2005. During his playing career, Shelton and the Loggers won two Northwest Conference titles and made two NCAA Division III Sweet 16 appearances. He was an All-Conference selection in 2002 and his name still appears in several all-time statistical categories for the program.
Following his time in uniform, Shelton served as an assistant coach for the Loggers in 2005-06 season, helping lead the team to its third consecutive NWC title, and the NCAA D-III Elite Eight. He also served as a head coach at Washington High School early in his career.
Shelton received both his Bachelor of Arts in History in 2005 and his Masters of Arts in Teaching in 2006 at Puget Sound. He and his wife, Courtney, also a Puget Sound graduate, reside in Tacoma with their daughter Claire.